Warranty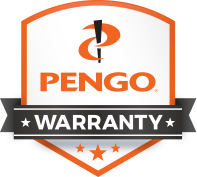 PENGO LIMITED WARRANTY
Products manufactured by Pengo wear and are expendable in their function. Wear and tear and occasional breakage must, therefore, be expected.
Pengo products are warranted from defects in material and workmanship for a period of Sixty (60) days from the date of invoice. Pengo will either replace or credit the defective part at its option. Any labor and/or material required to remove or install parts is excluded under this limited warranty. Products that have been misused, misapplied, hard-faced, improperly welded, or otherwise installed contrary to instructions and specifications are not covered by this limited warranty.
Pengo reserves the right to make design, specification and price changes without notice, and obligations to the effect of such changes.
Pengo makes no other warranty. All other warranties, whether expressed, implied or statuary, such as warranties of merchantability of fitness for a particular purpose, are hereby excluded and disclaimed to the extent that they exceed the warranties expressly granted in this limited warranty. In no event shall Pengo be liable for consequential or incidental damages, whether direct or indirect, claimed by the customer, and/or any third parties.
PENGO DRIVES LIMITED WARRANTY
NOTE: Pengo drives are not warranted for DTH applications. The DTH application will cause issues with the shaft and hydraulic motor.
All new Pengo products are warranted to be free from defects in material and workmanship, which may cause failure under normal usage and service when used for the purpose intended.
Pengo warrants its gearbox for a period of twenty-four (24) months and twelve (12) months on the hydraulic motor dating from the delivery to the original user. The Pengo warranty covers faulty workmanship and defective parts manufactured by Pengo. The warranty does not extend to transportation cost of parts, nor does it cover consequential loss, damage to hydraulic hoses or ground-engaging parts such as sprockets, digging chain, bearings and teeth.
Pengo equipment must be operated in accordance with the recommended procedures and within the ranges as specified, both on the unit and contained in the operating manual.
Any claims under this warranty must be made within fourteen (14) days after the buyer learns of the facts upon which claim is based. All claims not made in writing and not received by Pengo within the time specified above may be deemed waived. Serial number must accompany all claims.
Pengo will not be responsible for or accept any charges for work carried out by any repairs, or for any charges for any spare parts fitted to any Pengo products without written approval from Pengo.
This warranty is void if field repairs have been made to the hydraulic motors, gearboxes and controls without written approval. The complete unit must be available for inspection in its original but alleged failed condition. 
Pengo's liability for any and all losses and damages to buyer resulting from any cause whatsoever, including Pengo negligence, irrespective of whether such defects are discoverable or latent, shall in no event exceed the purchase price of the particular parts, with respect to which losses or damages are claimed, or, at the discretion of Pengo, the repair or replacement of defective or damaged parts.
Any goods returned to Pengo by the customer under warranty or repair must have all freight charges prepaid for on the customer's account.
RETURNS AND CLAIMS
Pengo reserves the right to determine whether products claimed to be defective shall be inspected by our personnel in the field or returned to the factory. If judged by Pengo to be defective in material or workmanship, the product will be replaced or a credit issued at the option of Pengo.
Upon notification of defect, Pengo's Inside Sales Department will issue a Return Goods Authorization (RGA) number. All returns for replacement or credit MUST be accompanied by an RGA number. Products returned without an RGA number will be rejected and returned to the sender freight collect.
All returns must be shipped "prepaid". Products shipped "collect" will be refused. Proof of purchase such as invoice number must accompany returns.
Slow-moving dealer inventory may be returned once per calendar year. The net value cannot exceed 5% of the previous year's purchases. A 20% re-stocking charge will apply to the net value or returned products. All returns must be of current manufacture and in un-used condition. Rusty or custom-painted products will not be accepted for return.